The Present
Taylors Falls Elementary School has over 370 preschool through 5th grade students and over 60 staff members. The school is a valued part of the Chisago Lakes School District .
The Taylors Falls School has changed in size and grade level of its students. Our elementary school continues to be a community school with strong academics, a welcoming atmosphere, and a caring nature, which finds its roots in the traditions brought forth when this building was a K–12 school.
Taylors Falls Elementary is still a community school where people can come together. Much like when it was a high school, our elementary school not only builds on what was tradition, but also keeps pace with our ever-changing world to provide the best education to prepare students for their future.
Taylors Falls Elementary has a monthly newsletter which can be found on the school website under the TF Parent menu . We also have an active Parent Group, which helps build a stronger school and community. Please take a few minutes to enjoy the happenings at TFE!
Jason Riebe
Principal, 2013-Present
Taylors Falls Elementary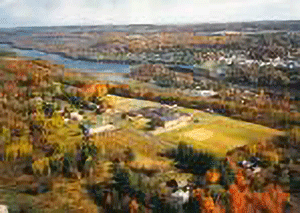 Dedication of New Wing
On October 9,2008, the new wing of Taylors Falls Elementary School was dedicated to Jerry Vitalis (Class of 1954). The Gerald D. Vitalis Education Wing honors the many contributions Jerry has made to the Chisago Lakes School District and Taylors Falls Elementary School. Jerry has served on the Taylors Falls/Chisago Lakes School Board for 43 years and has been a dedicated substitute teacher at Taylors Falls. Thanks for all of your hard work Jerry!