2011 Alumni Awards
Outstanding Graduate Award was given to Leo Nelson (Class of 1953)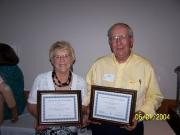 Leo Nelson graduated as Valedictorian in 1953 in the 2nd class to graduate from the present building. He graduated from Carlton College in 1957 with a BA in Chemistry and Zoology. He graduated from U of MN Medical School in 1961. Leo practiced as a Family Physician at River Valley Medical Center, St Croix from 1962-1997. He was in the Vietnam War from 1966-1968 and received the Commendation and The Bronze Star Medals.
Leo served on the Taylors Falls School Board as well as the Taylors Falls High School Team Physicians. He was also a member of the Polk County and State Medical Society. He has been a very active member of the First Lutheran Church in Taylors Falls as a Youth Leader, Council Member, Teacher and Lutefisk cooker. He has also been an active member of the Taylors Falls Lions, Taylors Falls Lighting Festival Committee, Taylors Falls Park and Recreation, Taylors Falls CERTAIN Task Force (volunteers who assist emergency crews) and Taylors Falls Historical Society.
Leo has also raised Beef cattle, chickens and crops on a farm west of Taylors Falls. His four children and one grandson graduated from Taylors Falls High School.
Outstanding Staff/Faculty Award was given to Leland Herberg (Class of 1944)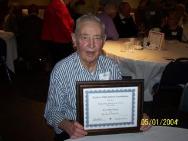 Lee Herberg was born in Shafer and with the exception of the US Naval service with the South Pacific Fleet from 1944-1946, lived all his life on his Century Farm. From 1948-1991 he drove school bus and farmed. Before the first day of school he would drive his bus route introducing himself to the first graders, new students and their families. In 1952 he married Charlotte Robinson, the school secretary. Beside farming and school bus driving he worked afternoons as a carpenter. Char substituted driving for him. Lee and Char had three sons, Wes, Wayne and Tom. Lee is also known as an accomplished accordion players pending many weekends playing for dances. He is known for helping people and his dedication to church.
Outstanding Citizen Award was given to John Jackson (Class of 1951)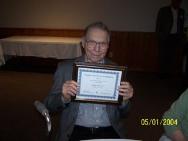 Franconia Township Club – 43 years
Chisago Lakes Mutual Insurance Co. Director, currently Treasurer – 38 years
East Central Energy Director. One term served as Secretary/Treasurer
Chisago County Extension Service Committee – 25 years, 24 years Chairman
Kahbakong Cemetery Assn – Director
Chisago County Historical Society – Former Director
Taylors Falls Historical Society – Publications committee
Franconia Township Sesquicentennial Committee – he wrote and guided a number of walking tours of the old village
Taylors Falls Lutheran Church – he wrote a self guided walking tour of the edifice for the sesquicentennial
First Lutheran Church – served in the organ committee when the new 19 rank pipe organ was acquired. John's great grandfather NJ Slattergren was on the organ committee when the first pipe organ was acquired.
Chisago County Agriculture Inspector – 10 years enforcing the noxious weed laws
Refuge East Organization helping battered women – Chairman
St Croix Valley Auto Restores Club – helped organize and was first chairman
Chisago Lakes Area Library Board – representing Franconia Township
Extra Curricular Award for the Years 1915-1952 was given to Bud Amundson (Class of 1952)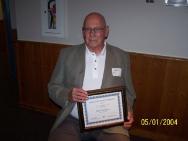 Bud Amundson was so active in so many school and non school activities. He was in the Boy Scouts, in the school chorus, the class plays, he was Senior Class President. Bud was the quarterback on the football team and guard on the basketball team. He was in the FFA, on the annual staff and was instrumental along with Bud Robinson in getting an annual in 1952, something the school hadn't seen since 1940.
Bud could always brighten your day with his humor. He had the best of both worlds, he went to the Kingsbury school for 11 ½ years and graduated for the new school.
Extra Curricular Award for the Years 1915-1952 was given to Carol Bonderson Nelson (Class of 1953)
Carol Bonderson Nelsongraduated in 1953 from Taylors Falls High and went on to Gustavus Adolphus College and Minneapolis Vocational School of Nursing. She was a nurse at Osceola Hospital and Northwestern Hospital in Minneapolis.
While attending Taylors Falls she participated in Choir, Drama Jr and Sr Class Plays, One Act Play Contest, Cheerleader plus Mascot in 4th grade.
Carol has been an active member of Chisago County as a member and Treasurer of the River Valley Medical Auxiliary, member and Treasurer of the Chisago County Cancer Society, Active member of First Lutheran Church, serving as a Youth Leader as well as a Council Member, Teacher, Woman's Organization President and Circle Leader, Congregational Financial Secretary, Choir member, Anniversary Committee member. She has also been Treasurer of Synodical Woman's Organization, member of Taylors Falls Historical Society, volunteer at the Folsom House, member of Taylors Falls Lighting Festival committee and Community Choir member. Carol has been a sales person at Gustavus Fine Gifts in Lindstrom and was chosen "Lady of the Village" in Taylors Falls in 2002.