2012 Alumni Awards
Outstanding Graduate Award was given to Earl Rivard (Class of 1929)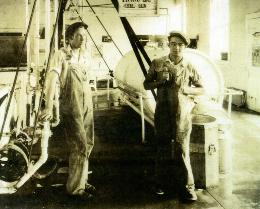 Earl came to Taylors Falls High School in 1923 when his father bought the Farmers Interstate Creamery. He graduated in 1929 and married Alice Smith, also a Taylors Falls graduate, in 1932. He played basketball for the TF team and was a member of the Boy Scout Troop in town. He managed the Taylors Falls Creamery from the early 1930'2 until it was sold in 1961. The Creamery also went into the cheese making business when he was manager and shipped much cheddar cheese to New York City and was sold locally.
He was also involved in Rivards' Station with his brothers since it was built in 1950 and around this time he founded a bulk oil delivery business. When he delivered oil for furnaces, stoves, and hot water heaters, he always made sure they were lit and working properly before he left, especially for his elderly customers. In 1976 Earl became the owner of the service station where many of the local boys found employment over the years.
He was Mayor of Taylors Falls in 1934 and 1935, was a long time trustee of St. Joseph's Catholic Church, a Charter member of the Goodfellows Club, was a member of the Stillwater Knights of Columbus and a long time member of the TF Fire Department, He died May 30, 1983.
Outstanding Staff/Faculty Award was given to Ruth Cedergren (Faculty)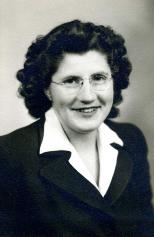 Ruth was born September 8, 1919 in North Dakota. SHe was raised in a rural area attending public school. She earned her degree in Business Education from Minot State Teacher's College. Ruth began her teaching career during the 1940's. She married Ed Cedergren June 1947. Ruth's daughter, Carol, was born November 1949. Known to her students as "Mrs. C" Ruth's teaching in Taylors Falls continued into the mid 19600's. To friends and family Ruth was always known as a "people person"…. always enjoying conversation and fellowship. Ruth Cederberg died in October 2000 at the age of 80.
Lee Herberg was born in Shafer and with the exception of the US Naval service with the South Pacific Fleet from 1944-1946, lived all his life on his Century Farm. From 1948-1991 he drove school bus and farmed. Before the first day of school he would drive his bus route introducing himself to the first graders, new students and their families. In 1952 he married Charlotte Robinson, the school secretary. Beside farming and school bus driving he worked afternoons as a carpenter. Char substituted driving for him. Lee and Char had three sons, Wes, Wayne and Tom. Lee is also known as an accomplished accordion players pending many weekends playing for dances. He is known for helping people and his dedication to church.
Outstanding Citizen Award was given to Ward Moberg (Class of 1963)
Ward attended Taylors Falls School and graduated in 1963. Ward's favorite part of High School was his morning paper route. It was here where he met the community. He enjoyed mixing with his customers and and others, especially with those at the Snack Bar at 6:00 am when he stopped for coffee.
Ward's interest in local history dates back farther than he remembers. His father's stories were an inspiration, especially the characters of which his father spoke. It also helped that he listened to his customers and the guys drinking coffee at the Snack Bar.
He started doing serious local history with Helen White who had the Dallas Visitor back in the early eighties. Helen was invaluable and demanding teacher. It is from her that Ward learned about research and writing. Kathy and Ward took over the Visitor in the late eighties and had it for six years. He has written many stories about Taylors Falls and the Upper St. Croix Valley that appeared in the Visitor.
For the last ten years Ward has given presentations for the Taylors Falls Historical Society. His favorite part of the research is to go interview people and get their stories. Almost all of the stories came from visiting with people who went to school at Taylors Falls. The joy with getting those stories is that you already know the context and the people.
Ward recently retired from playing the organ at First Lutheran in Taylors Falls. He appreciated the opportunity to play at funerals. It was there that he had the chance to meet many people who have moved from the area and returned to bury a parent and at times say goodbye to a classmate. Another aspect of playing gives Ward the chance to visit with people about his father. As soon as people see Ward's last name, they think "it must be Holger's boy". He never grows tired of hearing what an influence his father was on their life.
Extra Curricular Award for the Years 1915-1952 was given to Lloyd "Ernie" Sellman (Class of 1939)
Lloyd "Ernie" Sellman was born August 7, 1920 in Taylors Falls. He graduated from Taylors Falls High School in 1939 and enrolled at the University of Minnesota. Before he finished his undergraduate degree in political science, Ernie joined the United States Navy in 1942, attaining the rank of Commander. While in the Navy, he served in World War II as a cargo pilot and flight instructor. He was a pilot in the Berlin Airlift in 1948 and later served on the USS Wasp as a supply officer. Ernie married Olive Perrigo in 1944. In 1965, following his retirement from the Navy, they moved to Little Canada, MN, where Ernie founded Sellman Tax and Accounting Service, which he operated until 1995.
Ernie loved golf and and spending time with family and especially enjoyed manicuring his lawn. He was an avid bridge player and liked games in general. He enjoyed following the Minnesota Twins and the Minnesota Vikings and had a love for traveling, having traveled throughout the United States, Europe, Asia, and Australia with his family.
Ernie passed away at age 91 in Hudson, Wisconsin.
Extra Curricular Award for the Years 1953-1992 was given to Eleanore (Swanson) Collins (Class of 1956)
I was born in Taylors Falls and except for a few forays have spent my life in this beautiful and peaceful valley. Taylors Falls School and dthe river valley community offered opportunities and friendships that many would not have in a larger setting or environment. I love the aesthetics of the area which also allowed me to participate in the activities I enjoy, the river, swimming, skiing, canoeing, golfing, hiking, etc.
I married my high school Air Force sweetheart. We have two children, who graduated from Taylors Falls School, and 5 grandchildren. After my husband graduated from the University of Minnesota we moved to Colorado for a short time where he taught at the University of Colorado, Boulder, then back to Minnesota to teach at St. Catherine University until retirement.
I have a Art History degree from St. Catherine and worked at the college as the Art Resource Librarian. This position allowed me to travel with my husband and students to Mexico and Spain during January on language interim, while giving me a chance to study the culture and art of the countries and bringing our education studies together. My studies and interest also took me to Egypt.
I am a lifelong member of First Lutheran in Taylors Falls. It has been my pleasure to serve on the boards of Thrivent, Taylors Falls Historical Society, and the Taylors Falls School Foundation board. I also belong to the hospital auxiliary. I have enjoyed working on Habitat for Humanity houses as well as the Taylors Falls Lighting Festival.
Taylors Falls School gave me a foundation and values that became a cornerstone to build on.