1940 – 1992
1940 Wednesday, January 24: The name Bluejays and the bluejay emblem was formally adopted by T.F.H.S.
The combined TF letter had been in occasional, informal use before 1900, but it did not gain in widespread popularity until the late 1930's. The present school song "Stand Up and Cheer" came into use in the late 1960's. Several other school songs preceded it.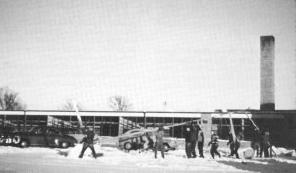 1951 Monday, March 26: Construction began on the present school on West Street. Most of the building was completed by the end of the year. At that time, the previous school buildings on Basil Street were vacated. They were eventually torn down in May of 1959.
1952 Wednesday, January 9: Classes were first held in the present school on West Street. The formal dedication of the new building took place on Monday, February 11.
Much of the building has since been remodeled. Major additions built in 1962, 1971, 1990 and 2008 have more than doubled the size of the original building.

1990 Serious discussions began with Chisago Lakes Area Schools (I.S.D #141) about possible cooperation and combination.

1992 Sunday, May 31: The 78th, and last, class graduates from Taylors Falls High School.
1992 to Present The school building on West Street has flourished as a K–5 elementary school, serving the eastern section of the Chisago Lakes School District. During the course of these years there have been two principals (Sherryl Johnson and the current principal Joe Thimm) who, along with staff and volunteers, have spent countless hours preparing the younger residents of the school district for their days at the middle school and high school.